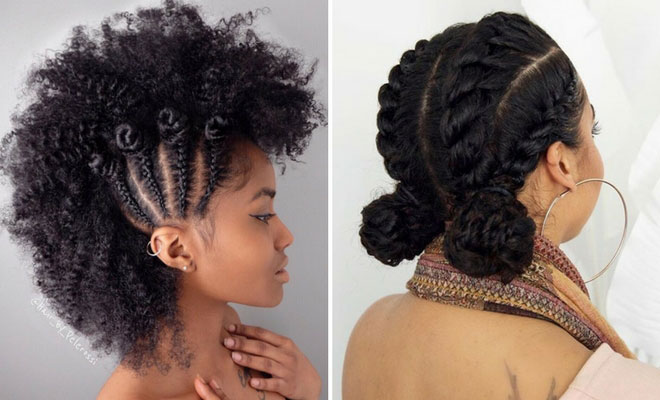 1. Faux Mohawk
The mohawk is such a cool style, and it shows you mean business. When you're not brave enough to go 'full mohawk' though, check out this faux mohawk instead. Using braids and little space buns, you have the opportunity to create a really edgy look without the need for really drastic measures … You know, like actually shaving your head. It looks great on some girls, of course, but we're not sure we could deal with the grow-back time. We're super impatient.
2. Tutorial for an Elegant Updo
There are plenty of tutorials on Instagram if you take a peek. Some of them are ideas that you might miss if you keep yourself in the Pinterest and Youtube world. There are less well-known people than the big tutorial names you may have already come across, and among these are some really hidden treasures. You should definitely peek at Instagram if you want chic and easy updo hairstyles for natural hair like this one.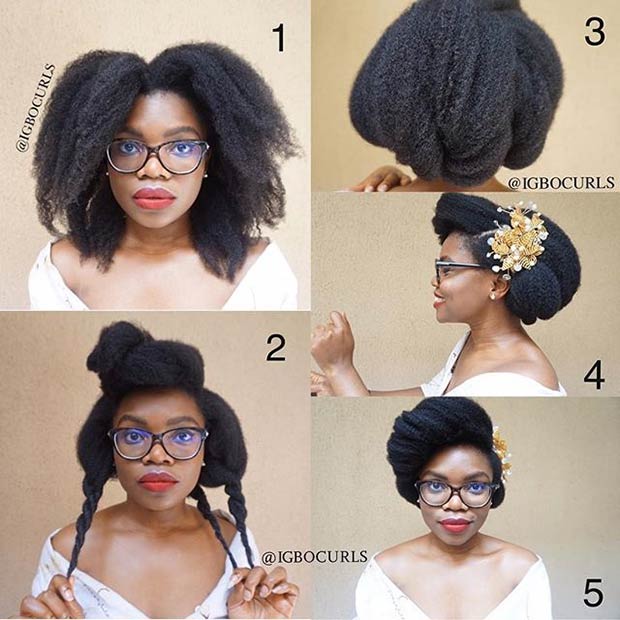 3. Perfect Summer Updo
This perfect summer updo is both elegant and bold, and isn't that what you want to be this summer? With a little sass thrown on top, of course. It is truly amazing how many different styles and designs you can create from simple braiding techniques. This larger braided style is definitely a great way to keep the hair off your face in that beautiful hot heat!
4. Bun + Faux Bangs
Bangs are quite a scary thought, especially if it's your first time. We've all seen those horrifying pictures and videos on social media though, haven't we? You know the ones – someone's cutting their bangs and it ends up looking utterly ridiculous, and also usually too short. Faux bangs are a fabulous way of rocking the look, without actually having to cut your own hair and risk any mishaps. Simply rock the bun / top knot look, and leave some free, which you'll then tease into a faux-bang look to suit your mood that day. When you're done with them, just release, and you'll have your own non-bangs hair back again. So simple, so smart!
5. Braid into a Low Bun
When you need a look that does the job and is super simple, this look ticks all the right boxes. Afro type hair often falls prey to dryness, and can be left looking frizzy and unkempt. Simple looks like this one require minimal twisting and turning. They also doesn't need for anything too tight that could potentially damage your scalp.