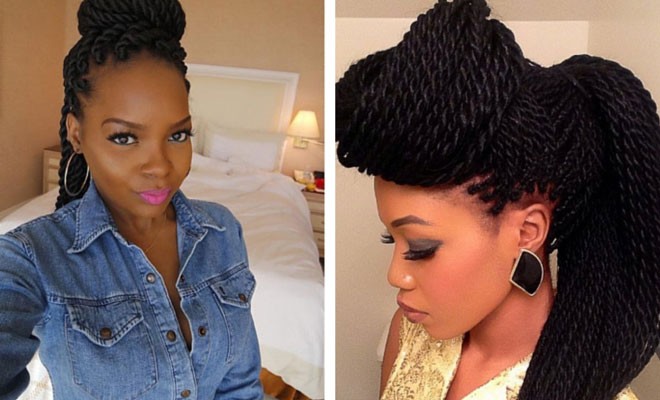 First on our list of Senegalese twist hairstyles is this awesome but simple half updo. This hairstyle is easy to make and looks super cute! It's perfect for spring and summer everyday wear because the braid will keep your twists out of your face.
2. Top Knot Bun + Ponytail
Elegant and classy are two words that completely describe this gorgeous updo. As you can see, you can dress up your twists in a number of ways. This gorgeous woman styled her front section of hair in a fierce top knot while the back is simply collected in a high ponytail. Give it a go!
3. Braided Top Knot + 2 French Braids
Step 1:
Start by separating your hair into two sections. Take the top section and secure it with a hair elastic. In this step, your hairstyle should look like a half-up, half-down ponytail.
Step 2:
Separate the ponytail into three sections and start braiding a dutch braid. Wrap the braid around your ponytail base. Secure it with bobby pins. Voila! You're done with the top part!
Step 3:
Separate the bottom section of the hair into two same pieces. From each section, braid a French braid.
4. Braided Updo
This is a very nice and elegant look that you can wear on special occasions. The first thing you're going to do is to make a side part of the hair that you want to use as your bangs. After that, make a high ponytail. You can secure it with a rubber band or use a piece of your twist. From the ponytail, bride eight braids and secure the ends. The next step is to twist each braid in a little bun and secure it with a bobby pin. Make sure everything is smooth and tight. Last step is to braid down a loose braid from your bangs, swirl it and secure with lots of bobby pins!
5. Big Senegalese Twists into a Top Knot
We know you love this hairstyle as much as we do! It's simple yet awesome. Section the top of your hair and twist it in a bun! Secure it with an elastic hair band or bobby pins. Sounds easy, right? Don't forget to copy those pink lips, too!
6. Hot Red Twists into a High Bun
What a bold and cool hue! We love it! Experimenting with hair colors is another advantage of Senegalese twists. You can rock bold colors like red, purple, blue, and grey without damaging your hair.