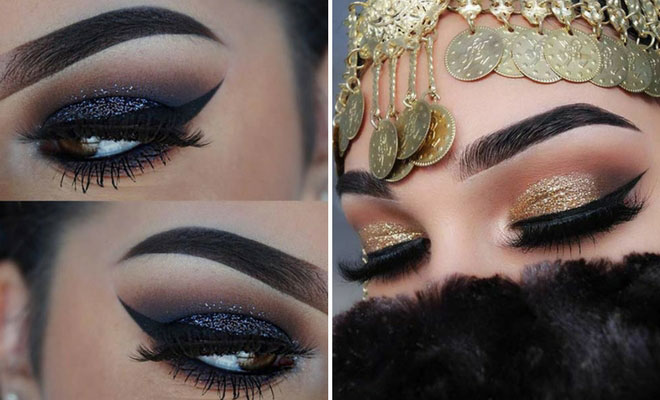 1. Gold Glitter Look
Be creative with your makeup designs, and spend some time playing around with the different shades in your palettes to see what work for you. These gorgeous makeup ideas for brown eyes must have started somewhere – a makeup artist playing around with the different tones and textures one day. How do you know you won't create the next killer makeup look? You don't, and that's why you should definitely get creative.
3. Olive Green Smokey Eye
If you have really dark brown eyes, you can play around a lot more with the much darker, almost-smoky looks when doing up your face for the day. If you have "medium" brown eyes, you should definitely play around with green tones, and yellows and yellow-gold shades look amazing on lighter brown eyes – they help to bring out those gold and yellow flecks.
4. Glittery Purple Look
If you have brown eyes, one of the things you should definitely play around with are those beautiful metallic shades. Nudes and metallics especially work well together, and are often work by the likes of Kim Kardashian and Kylie Jenner. As well as the typical nudes and gold or bronze metallic tones, don't be afraid to try dusky and rose gold pink toned eyeshadows, and also darker browns and purples too. These are all shades you can rock, so it'd about time you were rocking them!
5. Glittery Black Smokey Eye
If you're deciding to play up your eyes, and it's the first time you've decided to be creative with your makeup, keep the rest of your face nude. This is especially the case for your lips. Having big, dark and dramatic eyes combined with big, dark and dramatic lips can make you look a little horror-show-esque, and we're sure that's not quite the look you were going for.