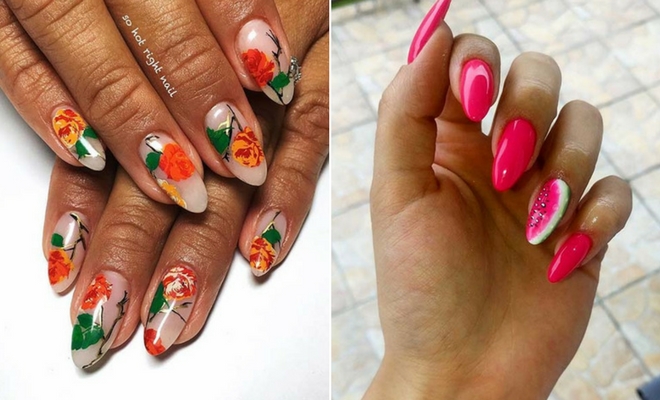 1. Palm Tree Design
Give your nails a tropical look with a palm tree design like this. This design features different pink polishes with black palm trees. You could re-create this with different colors for your own unique look. To get the palm tree design there are some awesome nail stickers available online.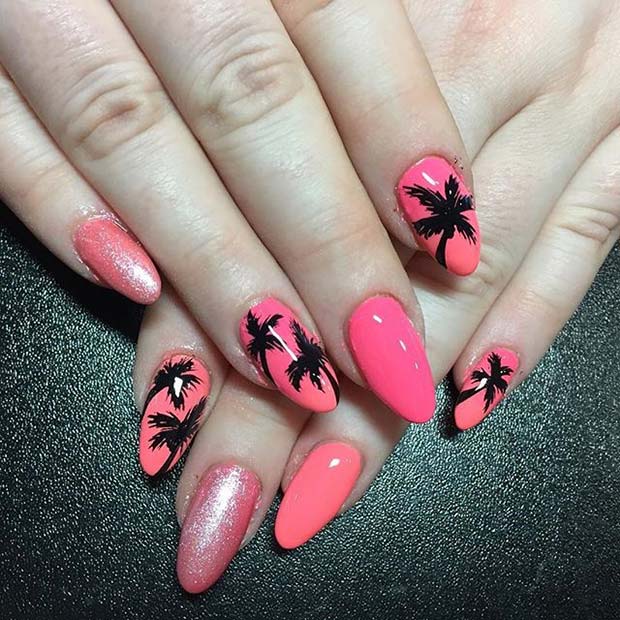 2. Mermaid Scales and Sparkles
Mermaid inspired prints and patterns are a huge trend for summer 2017. So, why not wear this trend in style on your nails. To get the mermaid scale look you can purchase a stencil. This makes it very easy to create funky nail art. You could re-create this in any color. Just make sure you add some sparkle!
3. Vibrant Yellow
If you want nails that look great but are easy to create then just choose one bold color like this. These nails have been shaped into a long almond shape and painted a bright yellow. This results in trendy nails that are easier to create than the complex designs. A color like this would work on short nails to, yellow is a summer must have.
4. Cute Ice Cream Art
Want a design that is cute and creative? Then you need to check out these ice cream nails. This novelty art is perfect for the summer. Creating it is easier than you think. The cone detail was created with a stamp and the ice cream with a stencil. You can check out all the products used and a how to video on their Instagram page.
5. Watermelon Nail Design
Watermelons are perfect for the summer! Give your nails a fruity makeover with a design like this. You could create two different designs or just choose the one. Either one would look awesome all summer long. There are lots of watermelon tutorials available online. The bright pink used is a great buy as you can use it for this design and much more.