1. Blue & Brown Smokey Eye
Once upon a time, you would need to sign up to a class in order to learn the latest makeup and beauty techniques. With the increasing popularity of Youtube, this is no longer the case. If you wanted a big and grand makeup look for a big event, just like this blue-popped beauty, you would need to pay out a lot of money for an expensive makeup artist. Now, however, you just need to take a peek on Instagram and Youtube and the tutorials are right there are your fingertips. You can learn in real time with the pros, and that sort of experience is just priceless.
2. Peachy Eye Makeup Tutorial
Peach shades of eye makeup are such a big trend right now, especially with the latest Two Faced 'Sweet Peach' palette. It's quite a brave shade if you've never rocked it before though. With such a vast array of shades in the palette itself, it's hard work knowing which ones you should (and shouldn't) be pairing with which. This pretty eyeshadow look shows you how to use the darker shades in the crease of your eye, while accentuating the main lid with that beautiful shimmering shade.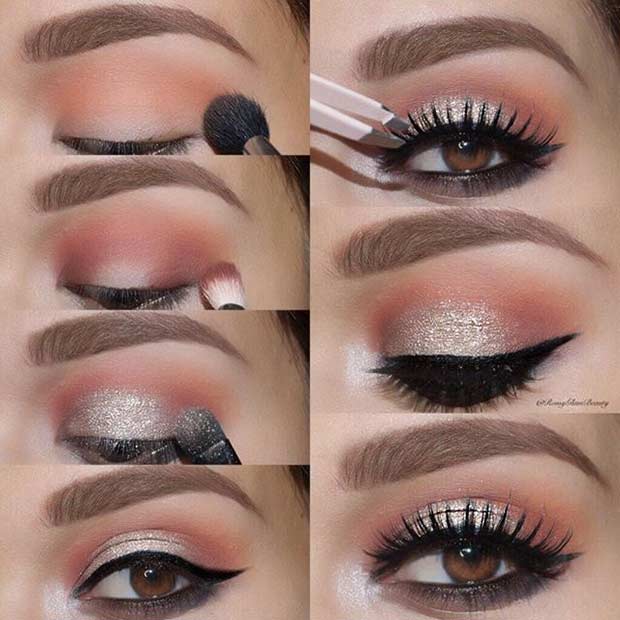 3. Simple Eye Look for Beginners
Eyeliner is a nightmare, especially when you're using liquid eyeliner, and definitely when you're in a rush! It never goes right on both eyes. You can spend the entire day just trying to even up that one flick, only to end up with massive black eyes at the end of it because you got carried away … We know the stress, we live it every day, but helpful easy step by step makeup tutorials from Instagram make life a lot less stressful!
4. Gold Glitter Eyes
Need a look to really make your eyes pop? This gold and glittery number is definitely one to check out. To make life even easier for you, there's even a step by step guide on how to achieve it. As you can see here, translucent powder has been used underneath the eye, and also around the external corner of it. This is to catch those loose bits of glitter that always fall on your face. You simply dust the powder away and the glitter will dust right away with it.
5. Burgundy Look
For something a bit darker, look towards the darker shades in your palette and easy step by step makeup tutorials from Instagram just like this one. The simple peach shades have been used to start with, creating a base for that darker red and burgundy pops of color to be added over the top. Just remember to blend it all well with a large and fluffy blending brush, and use a decent eyeshadow primer before you get started to ensure the look stays for the entire duration of your event. You don't want this beautiful look to slip halfway down your face, that's for sure!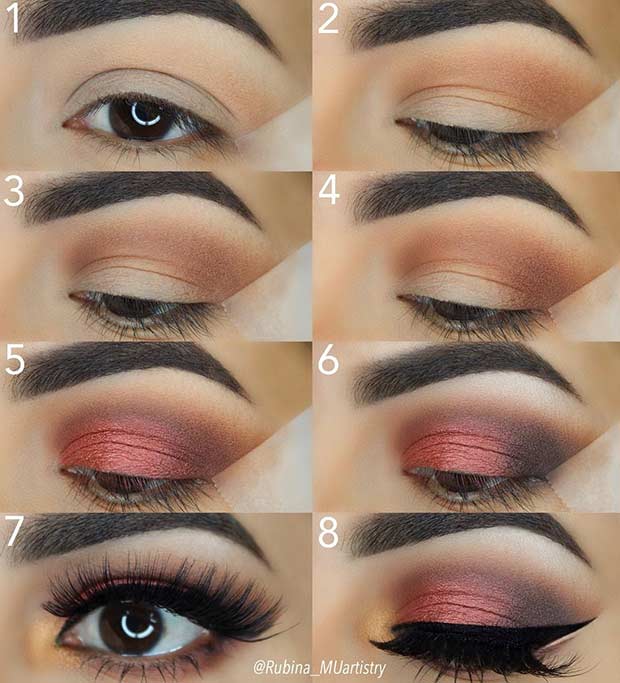 Source: Stayglam